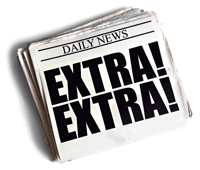 "Check out this page often, as there's always something new and hot going on at Future Security Tech!"




June 25, 2011
Future Security Technologies signs an exclusive agreement with with "Tomorrows-Gadgets.com"

February 09, 2011
Future Security Technologies has launched their latest marketing push for their Personal Tracking Device. The GPSALL Pro features a slim and convenient design (40mm x 21mm) that allows anyone to track their loved ones online at anytime, from anywhere in the world through a secure web link portal or smart phone.

"The market for this type of device is growing, we have parents inquiring for their kids, hospitals inquiring for Alzheimer patients, and businesses keen on tracking their employees" says Tony Dileo, Head of Technology at Future Security Technologies.

The geo-fence feature sends email or text notifications should the person you are tracking wanders beyond a pre-set geographic boundary. There is a one-time investment of $299 for the unit and a monthly subscription fee as low as $20 per month. "In our view it is a small investment when compared to the peace of mind it provides. As a society, we tend to invest in securing things that don't matter like our cars and houses. Knowing my child is home and safe everyday is priceless" says Tony Dileo.

Colleen Leduc of Barrie Ontario couldn't agree more. "I am a mother of a child with severe Autism. She is an extreme flight risk. I have lost her on two occasions, and she has been lost by the school on two occasions. Thankfully, she was found unharmed. She knows no danger, and can bolt at any time; I therefore live under constant lockdown". Autism strikes 1 in 99 children. Many, many of these children are considered flight risks. I am continuing to hear of children with Autism who go missing and ultimately die due to inclement weather, being hit by vehicles or never being found. "Since my daughter has been lost, I have been volunteering and advocating these devices to provide the best possible safety for my daughter. I think it is extremely important that the media help in this endeavour to let parents know that there is hope and that they can live with peace of mind, much like parents of typical children. Even raising a typical child, we don't have peace of mind (ie: the Tori Stafford case). I think this information needs to be brought to the public's attention. I hope you agree" says Colleen.

The GPSALL Pro Personal Tracking Device can be purchased and active in 2 days. It is the most precise and accurate device in the world with minute to minute tracking. It is waterproof and houses an impressive 2 week-long lasting battery. We also offer a unit in the form of a secure locked ankle bracelet. Future Security Technologies is an innovative company specializing in leading edge security products designed to protect your business, property, home, and more importantly, you and your family.

January 05, 2011
Future Security Tech is now looking for new "Distributors" to meet the growing demand for our products. If you are interested in becoming a Distributor of our products, contact us and we will be pleased to discuss on how you can be involved with us!

December 29, 2010
Future Security Tech adds to its line of leading edge technology products. Feel free to browse through our many items by selecting "Products" on the menu.

April 26, 2010
Future Security Tech gears up for the 2010 International Police Conference at the Sheraton Parkway North. Please come visit us at booth 22 to see our latest products and services for law enforcement. Click Here for more details.

April 21, 2010
"Future Security Tech returns from China Sourcing Fair."
What an amazing success this year!  We will be showcasing all our new products very shortly.  Stay tuned and come back soon!"

April 5, 2010
Future Security Tech gears up for its yearly trip to China Sourcing Fair in Hong Kong.  Come visit us at booth #6T42 from April 12 to 15, 2010.  Hope to see everyone there.

March 23, 2010
Future Security Tech executives gear up for the CTIA Wireless 2010 and the ISC West 2010 shows in Las Vegas, USA to ensure we're offering our clients only the latest and greatest in technology.

March 19, 2010
Jennifer Young from 680 All News Radio interviews Tony Dileo, Senior Tech Consultant on the latest in GPS Child Tracking….the FT900.
(Listen to the audio here)

March 18, 2010
Future Security Technologies, launched their newest product today; a Child Tracking Device. The FT900 features a slim and convenient design (9 cm x 5 cm) that allows parents to track their children online at anytime through a secure website.
"This product is a must have for every parent, we spend thousands to secure our homes and cars but when it comes to ensuring the whereabouts of our children there has been no comprehensive solution available until now" says Tony Dileo, Senior Technical Consultant of Future Security Technologies.
Mr. Plechac, Director of Marketing & Sales, goes on to say "The recent rise in child pornography charges laid in Ontario is worrisome. This device is meant to add a level of peace of mind that allows you to know where your kids are at all time for less than a cup of coffee a day." The geo-fence feature sends email or text notifications should your child wander beyond a pre-set geographic boundary. There is a one time investment of $299 for the unit.

More information: www.its11pmdoyouknowwhereyourkidsare.ca
January 1, 2010
Future Security Tech gears up for its major launch of the revolutionary KL-91HD mini dvr body camera for law enforcement officials at the well know Consumer Electronic Show (CES) in Las Vegas, USA.